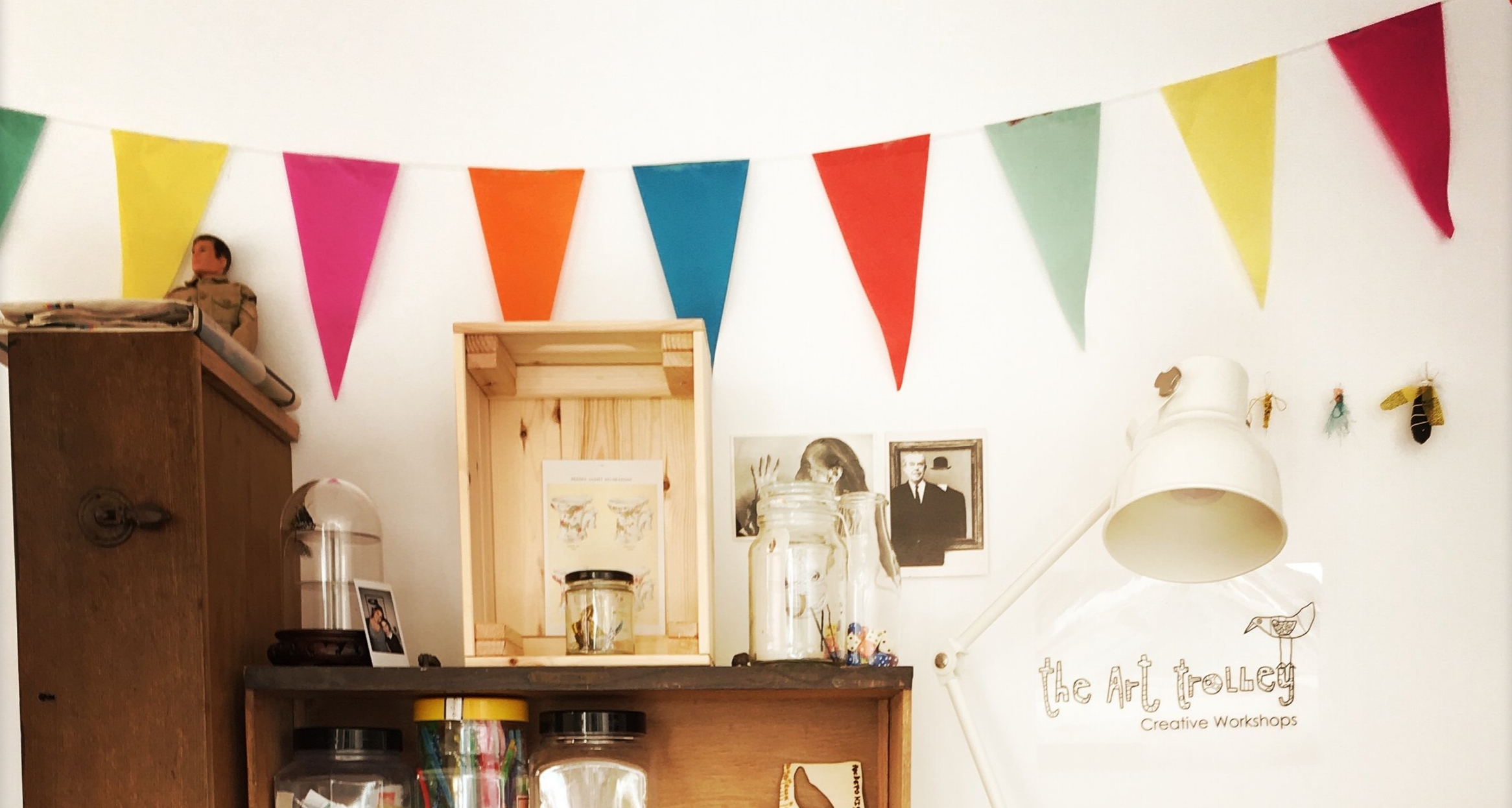 Studio Workshops
The Art Trolley Creative Workshops studio is located in central Tonbridge, just a three-minute walk from Tonbridge Castle. Working in collaboration with a team of qualified Artist Educators, we offer a vibrant programme of art activities and inspiring workshops, all designed for children, young people, and adults.
May Half Term
Please Scroll down to see all workshops we have on offer.
One-Day Fashion Workshop for Children / May Half Term
Thursday 30th May - 10:00am to 3:30pm
Do you enjoy dressing up and creating your own outfits? Do you like experimenting with shapes, colours and materials? The Art Trolley invites you to come to this special Half Term workshop and learn about Fashion Design in a fun and creative way! On this workshop we will use paper, textiles and different materials to create our own original garments and accessories. We will learn about the fashion process and have an overview on styling and collections making as well our own photo shoot!
Ages: 8 to 14 years old
Limited Spaces
Duration: 5.5 hours Cost: £42 (Includes all materials )
'Incredible Robots' building workshop for children /May Half Term
Saturday 25th May - 10:30am to 13:30 pm
Join us in this creative workshop to make incredible robots! Inspired by contemporary artists, we will use a variety of materials, explore our own design ideas, have lots of fun and even make a drawing machine!
Ages: 5 to 12 years old
Limited Spaces
Duration: 3 hours Cost: £27 (Includes all materials and a snack)
Comic Book Illustration for Children / FEB Half-term
Work with Artist and Illustrator Kremena Dimitrova and create your own illustrated comic book this February half-term! This workshop will be based around stories - how to draw cartoon characters, draw settings and tell stories through art, from single drawings to comic strips. We will learn about character development, comic strips and speech bubbles while experimenting with different materials. At the end of the workshop, the participants will have a finished project to take home. Limited Spaces
Saturday 23th February / Time: 2:30 to 5:00 pm
Ages: 9 to 12 years old